A Container Story
Here in the heart of Chicago, KJ Productions, like many urban gardeners, has limited space for gardening. We have a concrete-ridden back yard and a narrow rectangular front yard with a few narrow beds. To expand our options, a few years ago we started gardening in containers in the back yard. With massive porch reconstruction set for this summer, the containers will be moved to flank the three front doorways of our building.
We'd gotten an early start with a few things (lamb's ear, primroses, pulmonaria, and strawberry plants) donated from a friend in the friendlier climate of southern Indiana. But weather and schedules conspired to keep us from starting the containers until this weekend (which is still pretty early for us).
Friday featured a hectic and somewhat rushed shopping trip to my favorite garden center on a cold, somewhat damp day. (We'll have to head back there when it gets a bit nicer.) Saturday was planting day. I wanted to tie everything together with something white and grabbed, impulsively, an entire flat of white begonias.
My method, as always, is to plant, water, and hope for the best. We'll keep track of what does well, and what was a terrible idea, through the summer.

Anything with funky grass, like this fountain grass, is going to be one of my favorites. The little purple flowers are torenias.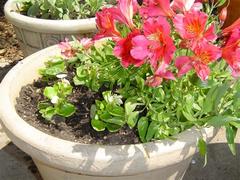 I've never tried to grow alstroemeria before, but it was so friendly and bright, I couldn't resist.

We also took a chance on fuschias, another plant I've never tried to grow before.


We've had good luck with silver licorice, a vine-like plant, before, and that should spice up these rather snoozy begonias.

Ideally, these strawberry plants will produce actual berries this year, if the squirrels and other neighborhood varmints don't get to them first.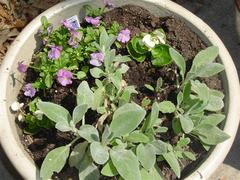 I'm also very fond of the "Lilac Ice" Viola, shown here with the lamb's ear from Indiana. Fun fact: the viola is the state flower of New Jersey.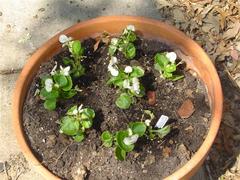 And finally: I had only planned for six containers. But there were still so many begonias, I had to make a contingency plan. I never wanted to be one of those women who doted on tiny, cute flowers (verbena, lobelia, etc.). But here we are, cuter than ever.

Posted at May 9, 2004 05:25 PM | az