Cat in the Dirt
KJ Gardens, a limited subsidiary of KittyJoyce Productions, is a site for the KJ principals to document our gardening activities. It's a place to share and a place to learn. Since we haven't been at this very long, the operative words will be "just learning" for the forseeable future. We also make lots of mistakes, which should be entertaining.
Please share good links, stories, and advice on what to do with this crazy moss/root system stuff I found in the soil this weekend.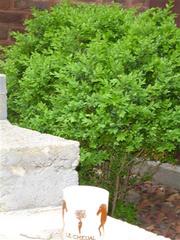 'Cheval' and shrub: E. takes his favorite coffee mug outside for watering duty.
Posted at May 9, 2004 05:09 PM | az