Stranded
I thought I had a stroke of luck when I jumped on the subway last night. The Cubs were out of town, so a ride on the northbound Red Line would be easy, and I'd probably even get a seat.
All hopes of a quick trip home vanished when the lights went out on the train just south of Diversey. As the train coasted to a stop, I looked up to see us roll by a roaring house fire. The heat from the blaze touched us even inside the train. We rolled another block or so, then came to a full stop and sat there for another 90 minutes. The CTA had shut off power.
Aberrant train behavior makes me very nervous. Taking pictures made me feel better.

Stopped trains, looking south. Eventually we were allowed to prop open the door of the train, since we were in the last car. You can see the smoke from the fire coming from the left.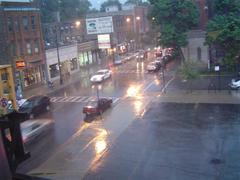 Meanwhile, night falls and life on the street below goes on. You can see how frustratingly close we are to the Diversey platform, at left.
It's not the CTA's fault that there was a fire, of course. But the truly dispiriting thing was how little information we received and, moreso, how little information anyone seemed to have, including the conductor. During the 90-minute wait we received contradicting bulletins over the intercom ("The fire is out." "The fire is still burning!") and were threatened with arrest if anyone opened the doors and climbed out on the tracks (although I did not see anyone doing that). When the power came back on and I got to Belmont, there was no information about whether more trains would arrive; the scene below the tracks in the station and the street was like a third-world bazaar as people swarmed and shouted around buses. Lucky for me, I am a smart Chicagoan. I know how to take a taxi.
It's not my first bizarre CTA experience, and I expect it won't be my last. My sense, still, is that in the event of a real train emergency, it's every person for themselves. Alertness is required at all times. But obliviousness might be better.
Too bad this publication is no longer around. Here are the back issues of the Weekly Breakdown.
Here's how the fire played in the news.
This is not the first fire on this block. It looked to me (and a lot of people) like the same house was on fire again, but the news and this press release give two different addresses.