Yet Another Makeover
Summer's not ever yet, is it? I seem to recall having a couple more good months at this point. So I hit the dirt one more time to fill in some gaps and spruce some things up.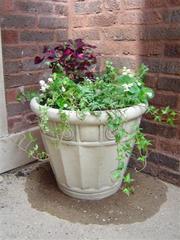 I moved the cranesbill (which I brought back from Bloomington in spring 2003) from the patch in the back yard, which will be decimated by porch repairs soon, to the container by our doorstep. In: the unfortunately named Magilla Perilla and some ivy. Out: most of the lamb's ear, which was looking patchy and bad, and the trailing viola, which also was ailing.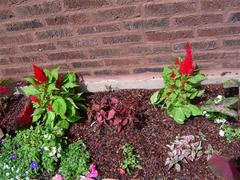 In the front, the center bed continues to mystify me. Some things just aren't doing well at all. Only the begonia and the calladium thrive, with the random violets finally fading. To complement the red calladium, I added some red celosia and some red and pink hypoestes.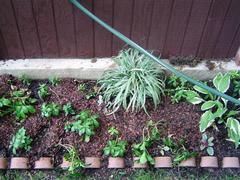 In the dark east bed, filled in some gaps with some pachysandra from the back yard. Added some more mulch, as some areas had gotten pretty uncovered. Crossed fingers.