KJ in England
Part of my excuse for the long silence is the 10-day trip we took to London in September. The vacation included two day trips into Kent, where we investigated the gardens at Sissinghurst and Chartwell.
Sissinghurst Castle is the former home of Vita Sackville-West and her husband, Harold Nicholson. Over the course of a couple of decades, they created a truly remarkable garden. An an unapologetic Bloomsburyist, I found the whole trip fascinating.

A-bustle in the hedgerow, with tower in background.
The sheer size and scope of the grounds can be intimidating for novice gardeners like me, but the plants were largely well marked, so we didn't feel too lost. One really needs a flock of employees to follow in Vita's footsteps today. But seeing an exhibit of her handwritten garden planning notes (including my favorite line, 'What is the matter with the lilac?') made me feel a little less at sea after all.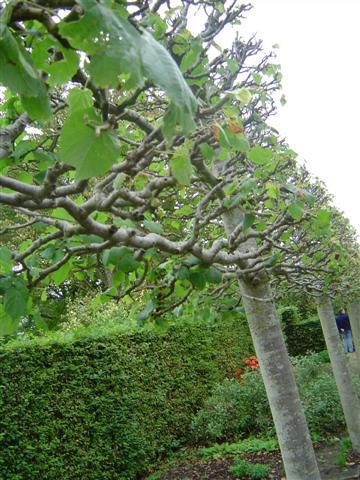 The lime walk, consisting of lime trees trained to grow together, is a striking sight.
More links about Sissinghurst garden design here. More about Vita and Harold here.
We also took a day's trip to Chartwell, former home of Winston Churchill. The garden was a welcome respite from the overwhelming 'Churchill cult of personality' that the place seems imbued with. It's hard not to like a place that greets you with this giant rhubarb-like plant (not labeled, alas).

This plant is as tall as a person, although there's no relative scale shown here.
The Chartwell gardens are somewhat more traditional than at Sissinghurst and in some places they are still being restored. The golden rose garden, shown here, was a peaceful place.

The husband stays in the picture.
More about Chartwell here.
Posted at October 6, 2004 08:58 PM | az