ToiletBoy
Last weekend AZ and I went down to Bloomington IN, my hometown, the place we met, the place we go every couple months to visit people and places. As usual, a swell time was had, more than justifying the drive of some 4 hours to get there.
There's much to be said, per usual, about such trip - perhaps some developments to report. But I did take note of two curious things there, oddities in the commonplace, basically.
We stayed at the Grant Street Inn this trip, a pleasant bed and breakfast (though we are always busy meeting people for breakfast, so don't get to take advantage of that). We were put in "The Annex" (or, as AZ put it, the "slaves quarters"). This is a second house that sits next to the primary Grant St Inn. It was restored to look like the main house - an older home as so often seen in Bloomington. But when they did our bathroom, they appear to have mismeasured, leading to the destruction of some molding.....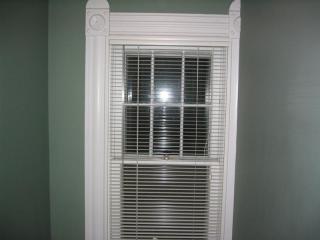 As an aside, when I moved back to Bloomington after college in 1989, I lived in a different annex to this house. That was when the building was on 7th Street next to a church; my friend Wes and I lived for 4 months in a tacky siding-laden bolt-on to the main house. We were displaced when the church that owned the house sold it to the present owners (who restored it to fine glory), on the condition that the house be moved to make way for a new parking lot they needed for their growing parishoners.
Also on this trip we made it to Soma coffeehouse, where we spent a chunk of time talking with our friend Jason visiting from SF (oddly, we spent much of the time this trip with friends from SF.
Soma has a cool bathroom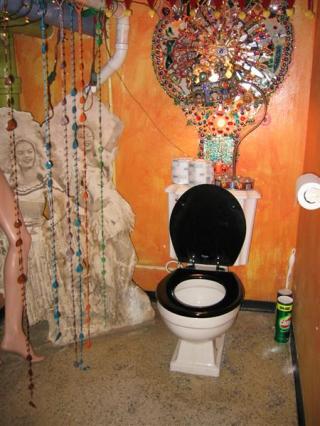 What isn't well captured here is that the throne is on a raised platform, on which a person of my height cannot QUITE stand up straight. It truly feels regal, somehow.
Posted by esinclai at December 05, 2002 06:55 PM |