More Tales from the Road
While in Oklahoma, we found ourselves with a day to spare. Since it was the day after Thanksgiving, almost everyone seemed to be headed to the shopping mall. So we figured it was a good day to do something else, so we headed up from Tulsa to Claremore, OK, to learn about Will Rogers.
Hardly anyone talks about Rogers these days; he died almost 70 years ago and his work seems to be a rapidly fading bit of Americana. But in his day, he was almost a brand name, making movies and writing newspaper columns, a combination one rarely sees these days.
There are two Rogers sites in the area. One is the Will Rogers birthplace, which sits in the middle of rolling farmland, at the top of a scenic man-made lake. The house is reconstructed and furnished to look as it was when Rogers was growing up in the late 19th century in what was then "Indian Territory." There were no signs of life when we parked and got out of the car, but we started to hear a voice as we got closer; a recording of a narration by Will Rogers Jr. plays continuously, explaining the details of the house.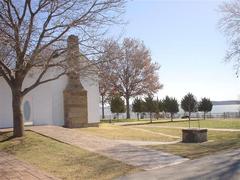 It's a nice house but kind of a ghostly affair, since no one actually works there to welcome visitors or explain things. Instead, we were greeted by a peacock, some goats, a burro, and a friendly dog.
Back on the road and over to the Will Rogers Museum, which offered a contrast with more interactive, multi-media, exhaustive Rogersania than you've ever seen before. Complete with statues, newspaper clippings, letters, photos, bits of clothing, and film clips, it's certainly a hagiographic exercise, although some of our questions--such as who ran the business end of this celebrity empire?--remained unanswered.
Rogers is responsible for more than his share of quotable quips, but the sentences I wrote down aren't among his funniest. They're a quote from a radio broadcast encouraging listeners to support Herbert Hoover's President's Organization on Unemployment Relief in 1931:
You know, there's not a one of us who has anything that these people that are without it now haven't contributed to what we've got. I don't suppose there's the most unemployed or the hungriest man in America has contributed in one way to the wealth of every millionaire in America.
Twisted syntax aside, the sentiment that "the poor" actually contribute to the success of "the rich" and that "the rich" have a moral obligation to help them in return is a sentiment you rarely see in the political or business literature these days. (Interestingly, the POUR was a group that raised money from private citizens and volunteers for its relief efforts; consistent with the rest of Hoover's philosophy, it was not an "entitlement" program.)
Is this relevant today? Maybe. Here's a fun fact that got completely buried by this fall's war headlines: The US poverty rate in 2002 went up to 12 percent. Maybe those people could use another Will Rogers. I dunno, maybe we all could.