First Courses
E.'s birthday found us dining in style last night. Although I am not usually one of those people who takes pictures of their food in public, there's always a first time, and that was last night.
The red snapper and king prawn had olives, which made me happy. It got me thinking, though, how much this prawn looks like a giant bug (legs included). Not that there's anything wrong with that. (Please do not send me hate mail if you are a prawn enthusiast or, indeed, a prawn.)

E.'s duck breast featured turnips, which made him happy. It was described as "laquered" but they didn't say laquered with what.

Service: attentive (and mercifully turned a blind eye to my food photography antics). Our fellow diners: mostly older wealthy couples in a unisex uniform of expensive-looking turtlenecks and dress pants. Atmosphere: mostly serene, with a bizarre interlude of piped-in '70s music (e.g., "Peaceful Easy Feeling" which made us look around fearfully, in case Don Henley had slithered in).
E.'s (unidentified) dessert looked nice on a blue plate. In fact, almost anything is nice on a blue plate, isn't it? Discuss.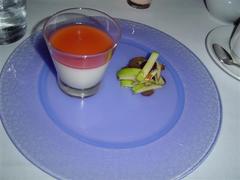 And a chocolate tart with pears and ice cream beats a cheese course any day, at least in my book.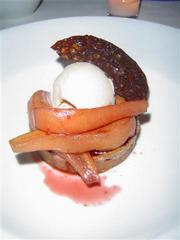 Salud!
Posted at May 05, 2004 06:48 PM

Due to the proliferation of comment spam, I've had to close comments on this entry. If you would like to leave a comment, please use one of my recent entries. Thank you and sorry for any inconvenience caused.