You Are Here
Last week walking home I had one of those realizations that sound kind of stupid in retrospect but seem incredibly profound in the moment. I realized that I spend so much time waiting and planning and working around life's little inconveniences that I sometimes forget: My life is here, right here, right now.
And so am I.
And it ain't all that bad.
Photo to enjoy: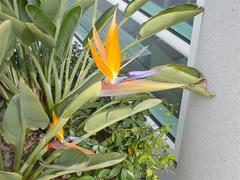 Don't ask me what kind of flower this is. It seemed to be all over the place in California. A Google search for "flower that looks like bird" is unhelpful.
Posted at March 05, 2003 09:21 PM

Due to the proliferation of comment spam, I've had to close comments on this entry. If you would like to leave a comment, please use one of my recent entries. Thank you and sorry for any inconvenience caused.