Mmm, Liquid
Three beverage-related comments heard in Bloomington this weekend:
1. "Can you get me a glass of milk? I don't want to go into the stink-o-mania."
2. "You can get Jack Daniels-flavored toothpaste...."
3. "I want my goddamn root beer."
Photo of the weekend:
"It has come to our attention this machine is being abused. For your own safety please do not shake this machine."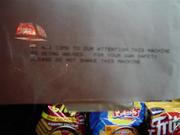 Sign on vending machine in Indiana Memorial Union pool table room
Posted at March 02, 2003 05:54 PM

Due to the proliferation of comment spam, I've had to close comments on this entry. If you would like to leave a comment, please use one of my recent entries. Thank you and sorry for any inconvenience caused.