Festival of Soup
Hey everybody! It's time for soup.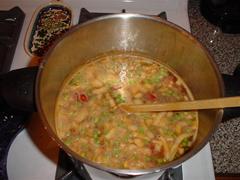 Includes:
2 cans beef broth, 1 can diced tomatoes, 1 lb cut-up roast beef from the deli (sliced thick), 1 potato, various carrots, celery, peas, corn, and barley. Toss in a smidge of soffrito and a bunch of pepper; cook for an hour or so, and you are there.
This post brought to you by the Friends of Soup. Void where prohibited.
Posted at February 17, 2003 06:41 PM

Due to the proliferation of comment spam, I've had to close comments on this entry. If you would like to leave a comment, please use one of my recent entries. Thank you and sorry for any inconvenience caused.