December 23, 2002
Ken Comes to Dinner
At the Bells & Whistles/Pickhits/Planet Shwoop summit meeting this weekend, Ken Goldstein made a surprise appearance.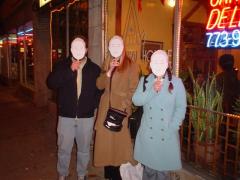 Not shown is me yelling "Honey, look out for the BUS!" as a Western Express nearly grazes photographer Eric.
A good time was had by all, except maybe the bus driver.
Posted at December 23, 2002 07:58 AM

Due to the proliferation of comment spam, I've had to close comments on this entry. If you would like to leave a comment, please use one of my recent entries. Thank you and sorry for any inconvenience caused.