Hosta La Vista, Baby
June 1 and one of the first real days of summer. Today it is about 90 degrees outside.
Sometimes I think this sentence will sum up my life in Chicago: For seven months of the year, she was too cold. The rest of the time, she was too hot.
The condo gardening experience is going well, though. We managed to avoid many of the weekend crowds by shopping at Home Depot on a Friday night. So this morning, it was all about the dirt.
I always want gardening to be more an art, not a science. I just want to stick some stuff in the ground and water it and hope that it grows. From what I've read, though, you have to be more organized than that. You have to worry about things like soil pH and composting and insects. I just want to turn our back courtyard from a concrete ghost town into somewhere we can hang out with our friends and enjoy lemonade and cookies.
I am a little worried about some marauding gangs I saw around here last year, though. Not the Latin Kings--the squirrels. I saw them tearing out my potted plants on the porch last year and throwing them on the floow. I swear I saw vindictiveness in their little beady eyes. If they come back this year, I'm going medieval on them. They'll be sorry they ever messed with me.
For the moment, though, we worked with our neighbors and made some nice containers and a new bed for the FedEx rose bushes that my folks sent last year before they moved. I hope the roses make it. I really miss my dad's garden back in Columbus, maybe because its grape arbor and cherry trees and other exotics connected me back to our garden in the house I grew up in. I don't miss the houses so much as I miss those outdoor spaces, which were private and beautiful and quiet. We're a long way from recreating them here, but maybe a little closer.
The stars of the show this year are some New Guinea Impatiens. I really like this arrangement, done by Pete.

More Impatiens, in a different color. We tried to mix in some foliage as well, hence the cozily named Dusty Miller.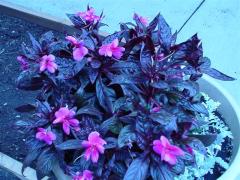 Our last visit to Columbus was in August 2001. This somewhat posey photo in my Dad's garden belies the fact that I was so stressed I was mainlining Advil for a perpetual headache...not unlike this week, really.
My dad was fond of growing a plant called "Hosta." I keep thinking I should buy some, but its name reminds me of an upper respiratory disease. ("Sorry I couldn't make the party, I came down with a bad case of Hosta.")
Posted at June 01, 2002 05:09 PM