New York Key Words
Highlights of our trip to New York, part 1: Key Words

New York has:
-good foliage. We took a bus ride uptown (on 5th Avenue? Madison?) where the street was cut down the center with flowering trees and tulips. See also Central Park, Bryant Park, and various little dog runs in the Village.

-screaming children. We were surrounded by them at the Central Park Zoo and Two Boots, home of the cornmeal-based pizza crust. On the opposite end of things the Neue Galerie was filled with some fairly aggressive old folks. I suppose that's what the screaming children grow into.
-ways to feed my brain. We carried home a carry-on worth of books, no kidding! I spent my evenings reading about container gardening and plants to brighten up our concrete nightmare of a courtyard.
-colorful characters. Saw Dan, Ed, and Steve, as well as numerous hipsters and Yuppies. Overheard phrases like "I wonder if that was a zing at Hugo" and "I will fuck you up. I'm serious!" I hope he wasn't talking to Hugo.
-delis on every corner. This was a tremendous advantage to me and whatever metabolic quirk that insists I eat before 9 am. Why don't we have these places in Chicago? Don't even start with me about Au Bon Pain.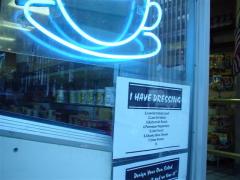 -sugar. The best chocolate cake in the world, in an unexpected place. Served with whipped cream.
Part 2: The Virtual Tour
Some of our favorite places are not on the Web. Here are a few that are:
See Klimt, Schiele, and Kokoshka here.
Highly stylized office supplies here. I bought coordinated scissors and pens!
Home of the well-chosen book. In fact, I chose a few.
Less comfy quarters or, indeed, not quarters at all. I enjoyed this tour and the guy selling pickles outside. There's also real-live controversy surrounding this place.
Part 3: The Loot
OK, I don't need any more books for a while. What we need is another place to put them. A partial list of purchases:
Black Lamb and Gray Falcon, Rebecca West's travel journal of Yugoslavia
The City and Town Garden, Linda Yang
Women in the Metropolis, a critical study of women in Weimar culture. I bought this because I became instantly obsessed by the discussion of the depiction of the "female flaneur" ie, a woman who walks around the city
Ghost Stories chosen by Edward Gorey. Brr!
Creative Home Design, an attempt on my part to master, or at least understand, this intimidating area
Urban Gardens by Rose Dale--Yeah, we'll be doing this. In about 20 years. But fun to dream.
And that's just a sample. Eric bought lots more as well. 'Cause you can't buy books in Chicago. Nope.

Posted at May 02, 2002 08:26 PM